FIFA World Cup 2022 ™ Match Schedule – বিশ্বকাপ ফুটবল ২০২২-এর সময়সূচী
Following a dazzling Final Draw for the FIFA World Cup 2022 ™, the final tournament match schedule has been published on FIFA+.
Given the compact nature of Qatar, event organisers were able to assign, for the first time ever, group stage games to a stadium and kick-off time for each matchday after the final draw, optimising the match schedule for the benefit and comfort of spectators, teams, media and the global audience.
A total of 64 games will be played to decide the winners of the FIFA World Cup Qatar 2022™. See when and where the action will take place.
ফিফা বিশ্বকাপ কাতার ২০২২-এর™ জন্য একটি চমকপ্রদ ফাইনাল ড্রয়ের পর টুর্নামেন্টের ম্যাচের সময়সূচী ফিফা প্রকাশিত করেছে।
ফিফা বিশ্বকাপ কাতার ২০২২-এর™ বিজয়ী নির্ধারণের জন্য মোট ৬৪টি খেলা অনুষ্ঠিত হবে। কখন এবং কোথায় খেলা হবে হবে তা দেখুন।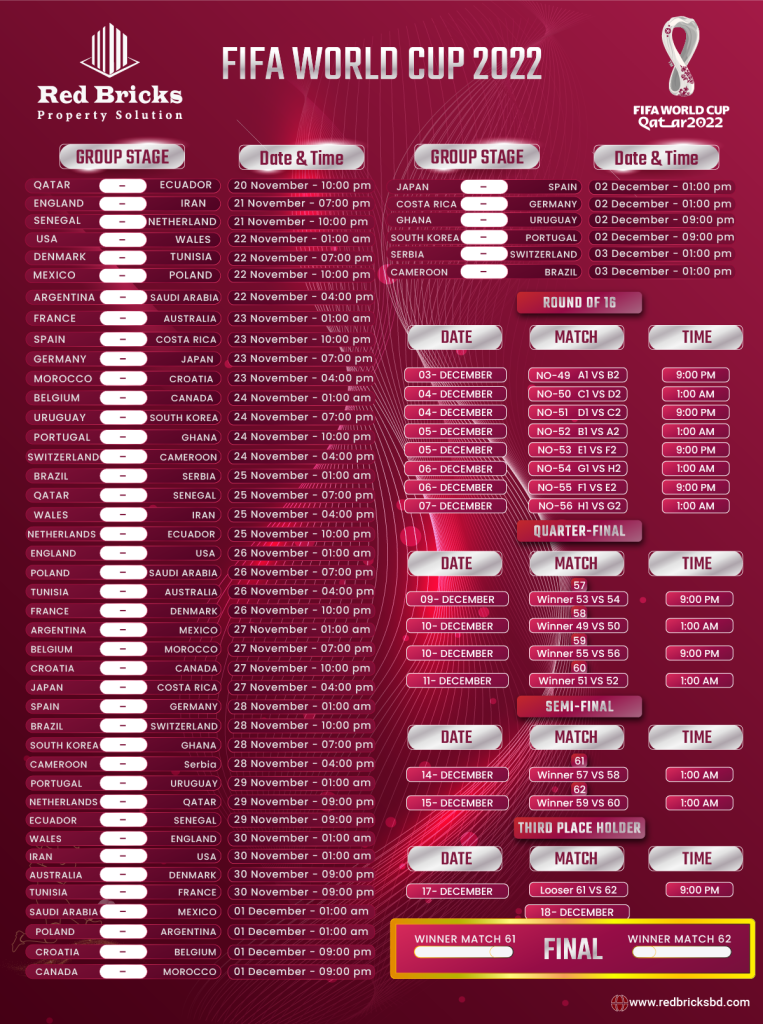 ফিফা এর আগে জানিয়েছিল, কাতার বিশ্বকাপে চ্যাম্পিয়ন দল পাবে রেকর্ড ৪ কোটি ২০ লাখ ডলার (বাংলাদেশি মুদ্রায় প্রায় ৪৩৩ কোটি ৬০ লাখ টাকা)। ২০১৮ সালে রাশিয়ায় অনুষ্ঠিত সর্বশেষ বিশ্বকাপের প্রাইজমানি থেকে এবার ৬০ লাখ ডলার বাড়ানো হয়েছে। ২০০৬ বিশ্বকাপের সঙ্গে তুলনা করলে প্রাইজমানি বেড়েছে ২ কোটি ৭০ লাখ ডলার।
কাতার বিশ্বকাপে ৬৩টি দেশের মোট ৪১৬টি ক্লাবের খেলোয়াড়েরা এবার বিশ্বকাপে নিজ নিজ দলের প্রতিনিধিত্ব করবেন। মোট খেলোয়াড়সংখ্যা ৮৩০। এসব ক্লাবের খেলোয়াড়েরা মাঠে নামুক বা না নামুক, যত দিন বিশ্বকাপে থাকবেন, তত দিন ধরেই টাকা পাবে ক্লাবগুলো। প্রতিটি ক্লাবকে তাদের প্রত্যেক খেলোয়াড়ের জন্য প্রতিদিন ১০ হাজার ডলার দেওয়া হবে।